Take a look at the Thanksgiving Day parade bulletin board creation by Mrs. Polizotto's art students. After reading the book Balloons Over Broadway by Melissa Sweet, students made "balloons" and "spectators". It looks magnificent! Wishing all of our PES friends and families a Happy Thanksgiving. We are grateful to be part of such a supportive and giving community.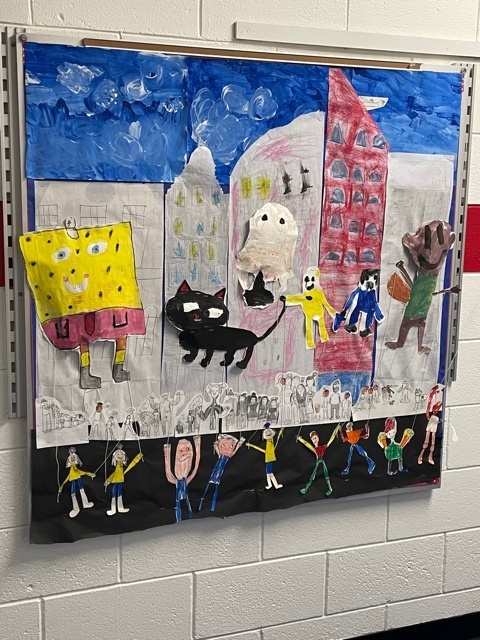 Remember we have half days this week! We will serve a grab and go lunch and dismissal is at noon. Thanksgiving break begins on Wednesday.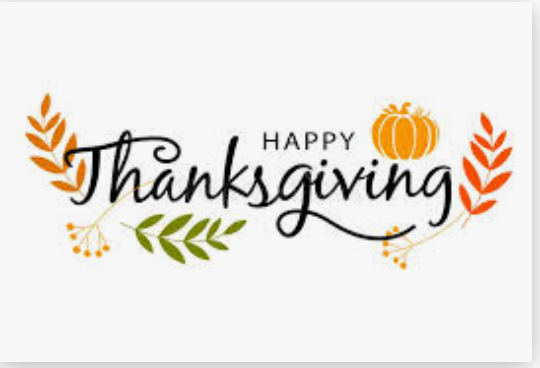 Thank you to those of you who participated at the vaccine clinic today. It was a very successful event and your students did great! Governor Mills even dropped by for a special visit to see how brave everyone was. Please note that MidCoast keeps the vaccine cards and consent forms on file and will bring them to the 2nd clinic on December 10th. At that point, vaccine cards will be given to students to take home.
Today RSU 1 hosted a vaccination clinic for students in the RSU and surrounding towns. It went very well and the students were very brave!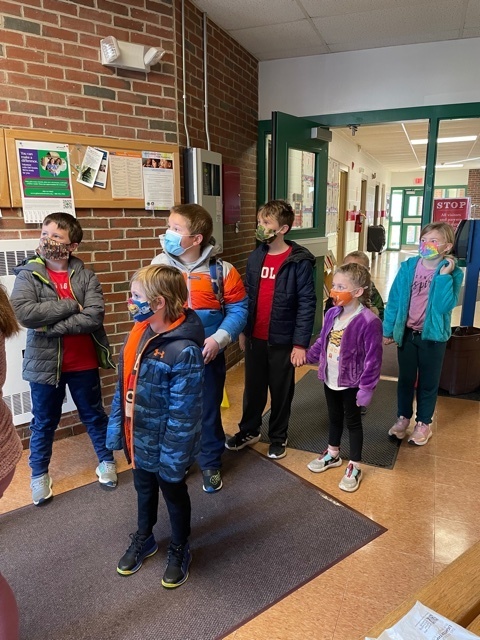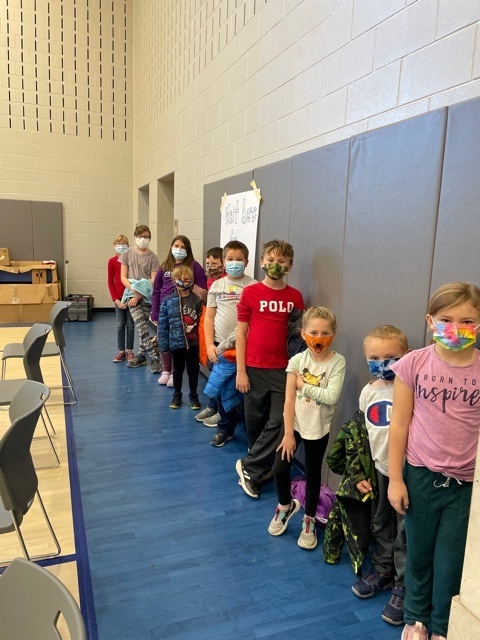 Please don't forget that Parent/Teacher conferences begin Thursday, November 18th for those who have signed up for evening conferences. They continue the afternoon of Monday, November 22nd. If you have not already done so please sign-up with your child's teacher.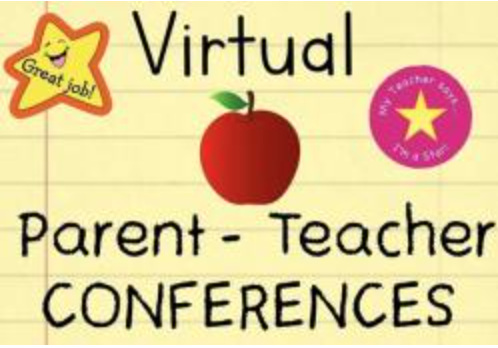 This month in library classes Mrs. Caron read books to students about why we celebrate veterans and Veterans Day.  After reading and learning about Veteran's Day students wrote notes to veterans and colored pictures for them.  Mrs. Caron delivered these to Gary Fleming who shared them with our local vets.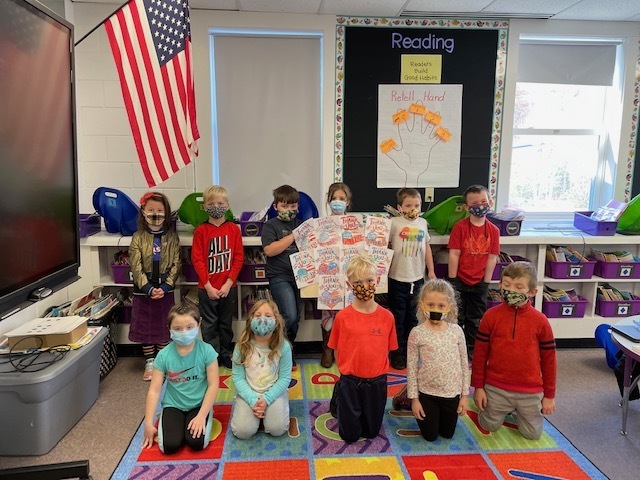 We had our first PTA meeting of the year today! Congratulations to our newly elected officers, Janel Thomas and Callie Wells, co-Presidents, Shanna Ferrar, Secretary and Rachel Rowan, Treasurer. Watch the log for more information about our next fund raiser, a bake sale for the PTA Scholarship fund. This will be during our winter concert on December 16th.
Charles' bus is on its way; driver is new so may take a few minutes more.
BUS 29 WILL BE LATE TODAY DUE TO A MINOR TRAFFIC ACCIDENT THAT OCCURRED IN OUR PARKING LOT. THERE WERE NO INJURIES. WE ANTICIPATE A NEW BUS WILL BE ARRIVING AT PES AT 3:30 AND THE ROUTE WILL BE RESUMED. IF YOU WOULD LIKE TO PICK UP YOUR CHILD AT SCHOOL BEFORE 3:30, CALL THE OFFICE WHEN YOU ARRIVE AT PES AND WE WILL GET YOUR CHILD FOR YOU.
As promised, here are some pictures of students in the outdoor classroom! Ms. McCauley and Mrs. Baldwin collaborated to bring this lesson on identifying plants to students. It was a beautiful day and the kindergarten students loved their first trip to the outdoor classroom.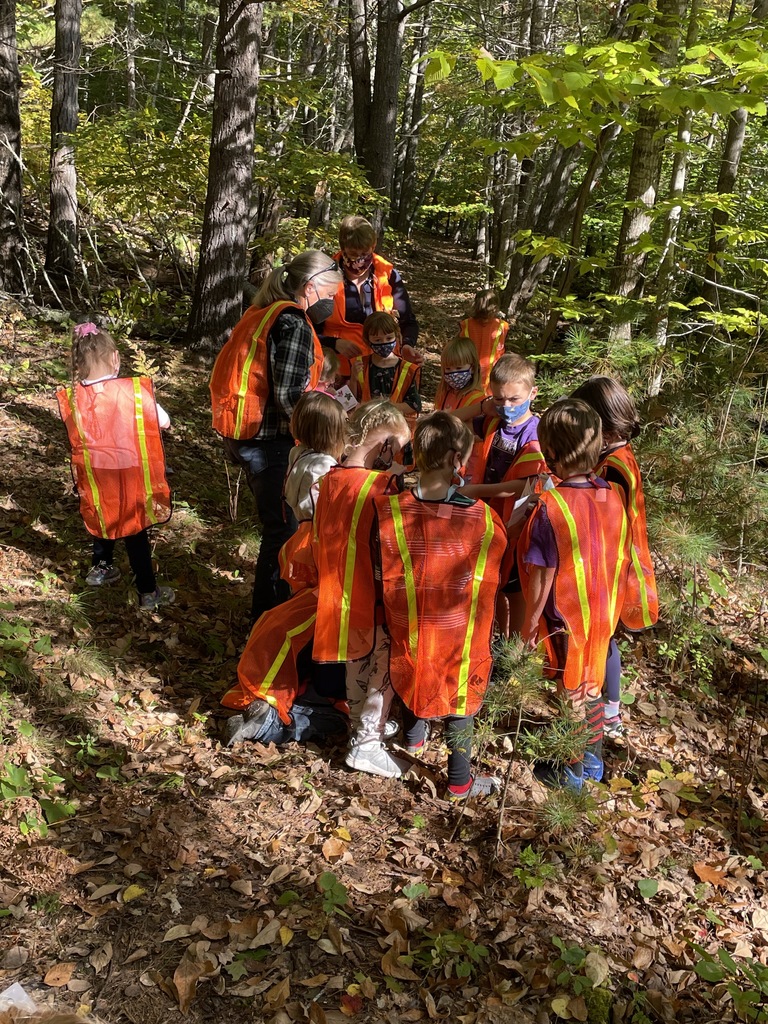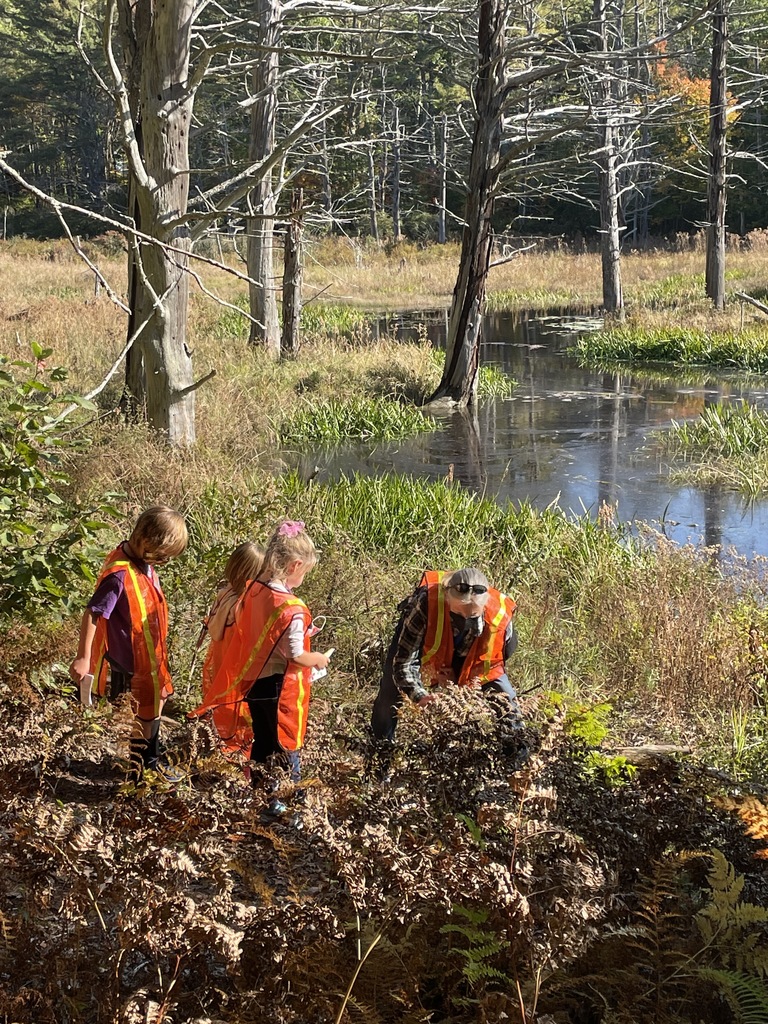 Mrs. Tardif's first grade created a great bulletin board with recycled materials in honor of the book Stellaluna, by Janell Cannon.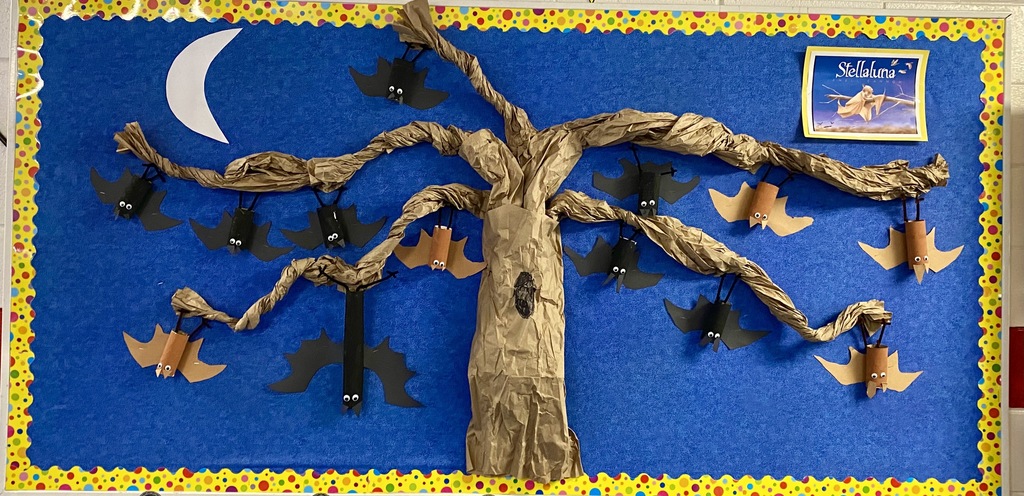 Did you know that this week is Maine Harvest Lunch Week? Thank you to the PES community garden for the lovely produce grown in the garden beside the school and used in today's salad!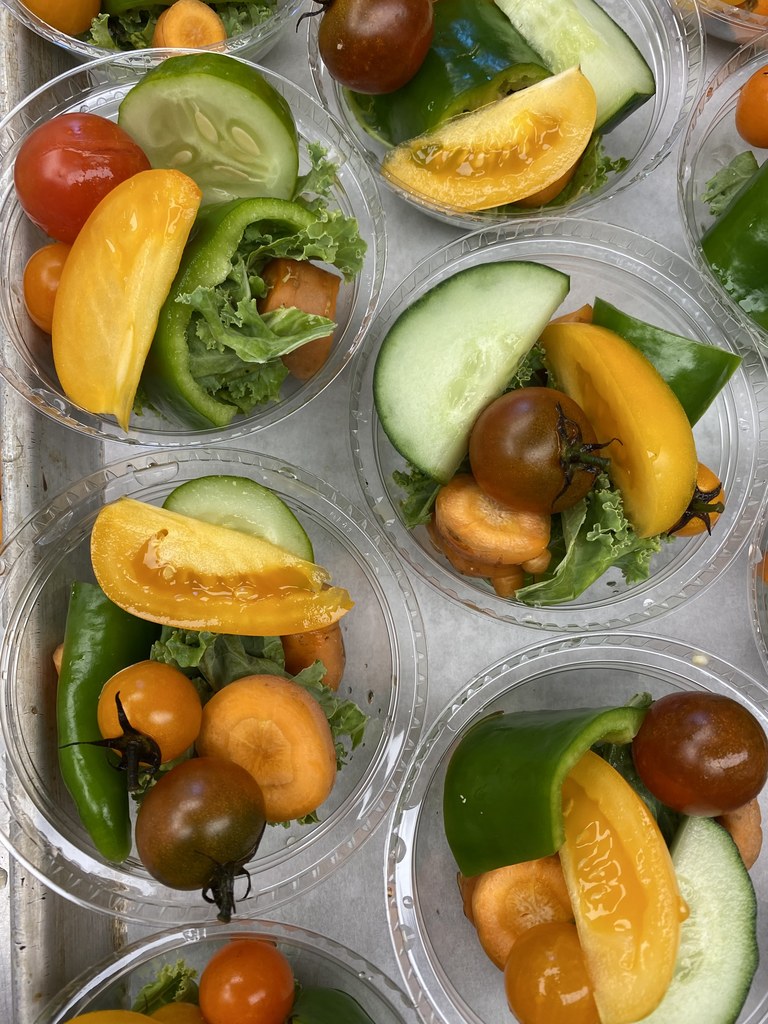 Power back!
Power Outage update: CMP is estimating that our power will be restored at 1:45. A porta-potty will be delivered shortly for 3rd-5th grades to use. Our K-2 students will use the bathrooms inside. Phippsburg FD is bringing us a truck load of water so we can flush:) Hats off to our students and staff! We're showing some incredible grit and carrying on with learning.
Power Outage! We're currently experience a power outage. CMP estimates that power will be restored by 12:30.. We WILL be serving lunch as usual. Students are being troupers!
Please visit the NEWS page at
www.phippsburg.rsu1.org
for the latest newsletter and flyers. And the Charleston Wraps Fundraiser catalogs, order forms and instructions went home today in Thursday folders. If you are interested in placing any online orders or sending email invites to out-of-town family and friends, select the Charleston Wrap image and then the link for instructions. Thank you for your support! Have a great weekend! :)
If you're looking for info on Cub Scouts, Pack 621 is restarting tonight. Join them at 6PM today-Tues, Sept. 14th-at the Legion in Bath for information. All are welcome. 200 Congress Ave, Bath, ME 04530 There's also a FREE Girl Scouts Unicorn Pajama Party via Zoom event September 17th, requiring registration by 4PM that day. Flyer will be available on the PES website under NEWS.
Since we sent Log 2 home in the First Day folder, you can expect your 1st Thursday folder to go home September 16th. If you missed Log 2, you can view it on our website.
Look what we discovered in our Little Free Library out front of PES! I wonder where it will show up next????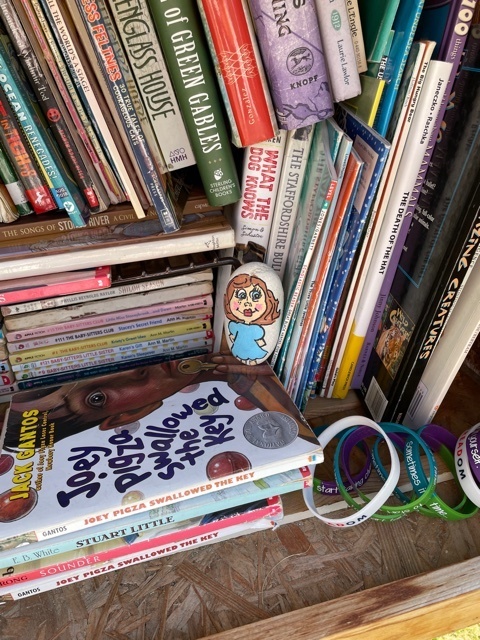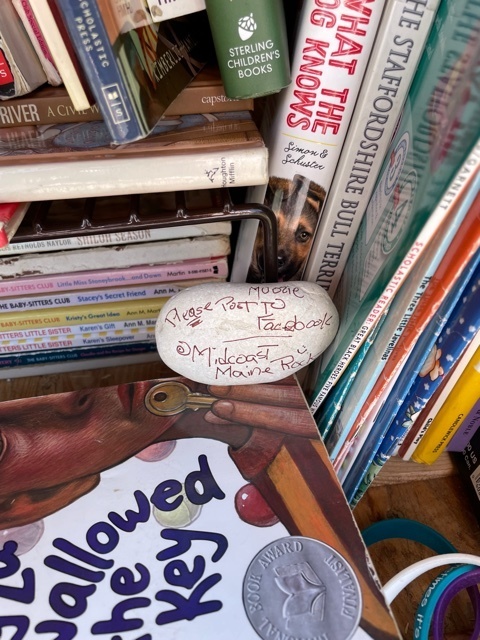 Mr. Charles' bus #29 just left PES at 3:17, so dropoffs will be running later. Thank you for your patience.